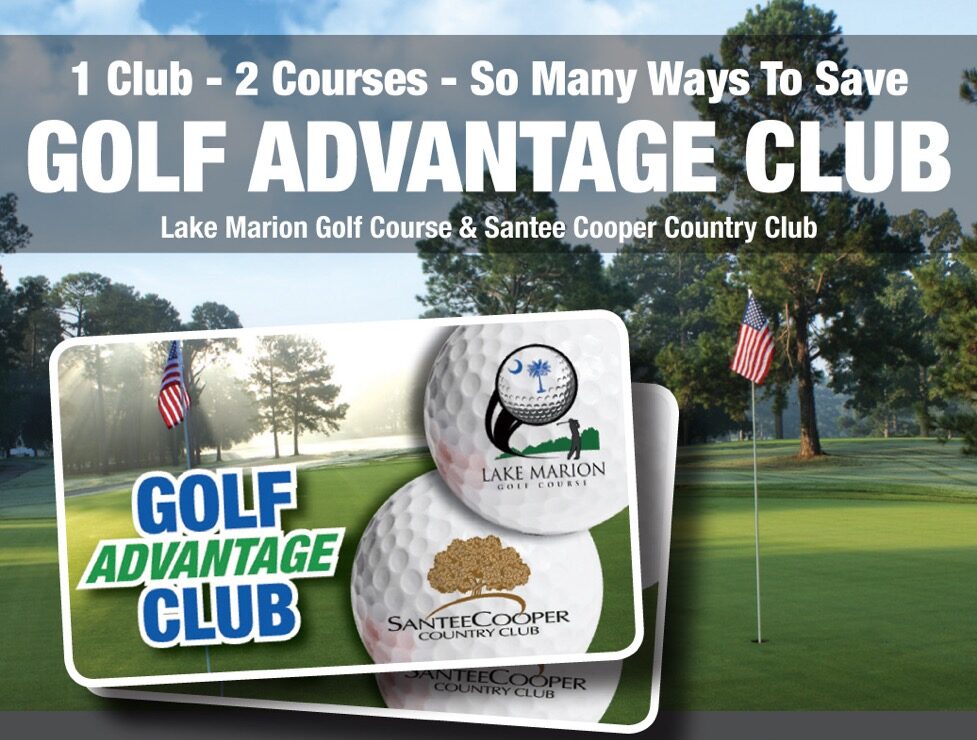 A MUST-HAVE FOR SOUTH CAROLINA RESIDENTS!
ONLY $80 to JOIN
PURCHASE YOUR GOLF ADVANTAGE CARD TODAY!
VISIT OR CALL THE LAKE MARION GOLF CLUB PRO SHOP
9069 HIGHWAY 6 , SANTEE, SC 29142 – (803) 854-5360
OPEN EVERY DAY, SUNRISE TO SUNSET
ADVANTAGE CARD HOLDER BENEFITS*
FREE Round of Golf
FREE $25 Gift Card valid for Food & Beverage, Golf & Merchandise*
FREE Round after Each 6 Paid Rounds
FREE Unlimited Range Balls Any Day (tokens required from Pro Shop during operating hours)
FREE Round of Golf for Your Birthday Week – redeem anytime
Tee Time Booking up to 30 Days in Advance
Mon-Thu $29 & Fri-Sun $35 AM / $30 PM for 18 Holes including Shared Cart
$10 Unlimited Replays (subject to availability)
Same Rates for Out-of-State Guests when accompanied by Advantage Card Holder
Special Private & Group Golf Lesson Rates
Pre-Sale Opportunities on Merchandise Promotions
Exclusive Club Repair & Re-gripping Promotions
Golf Advantage Club Golf Tournaments
Golf Advantage Club Family & Friends Driving Range Events
Access to Palmetto Traverse Putting Course Events
*Your FREE $25 Gift Card is re-loadable! Used all your credit and want more? Do folks need a gift idea for you? Call or visit the Pro Shop to purchase additional Gift Card Credits at any time for any dollar amount.
 *Can be purchased by South Carolina residents only.
Valid for one year from date of purchase (daily rates may be subject to change).